Global Atlantic ForeCare Long Term Care Annuity Review
by Jack Lenenberg
Ben Franklin once famously said "A penny saved is a penny earned."  But Ben can no longer give you wisdom today when it comes to the money you have saved.  To be sure, you need to have enough money to live on.  At the same time, you need to have enough money set aside should your health change toward the end of your life.  When planning for your retirement, it is natural for you to think about stock market volatility, inflation and taxes.  However, you also have an increasing need to consider the impact of the high costs of needing to receive long term care. There is a high likelihood that you will need to receive some care in your life and without a plan your assets could be rapidly depleted.
If you have successfully saved for your retirement and are meeting your income needs, now might be the right time to explore your options for setting aside these "just-in-case" dollars.
Global Atlantic ForeCare LTC Annuity - How It Works
Global Atlantic ForeCare provides you with 2 distinct advantages:
The ForeCare Multiplier - You will receive up to two times or three times your deposit to spend on long term care expenses
Pay With Tax Deferred Dollars - The Pension Protection Act of 2010 allows you to spend tax deferred dollars on LTC expenses tax free 
2X - 3X Coverage
Global Atlantic ForeCare is a single premium fixed interest annuity with a long term care extended benefit rider.  The ForeCare annuity multiplier will provide you with double or triple the amount of your annuity contract value (depending upon underwriting eligibility) to spend on qualified long term care expenses.  This additional coverage in excess of your contract value provided by the 2x or 3x multiplier is only available to be used for qualified long term care expenses.
Qualified long term care services include home health care and personal care services, assisted living facility, adult day care, homemaker services, professional nurse and therapist services, nursing facility care, respite care, hospice care, bed reservation benefits.
To qualify for benefits your doctor will need to certify that you need assistance with 2 of 6 activities of daily living or that you have a severe cognitive impairment such as Alzheimer's or dementia.  There is a one-time elimination period of 90 days t(waived for home care) hat will need to be satisfied once your claim is filed.  
The fixed annuity structure of Global Atlantic ForeCare allows you to participate in both protection and accumulation benefits.
Your crediting interest rate is guaranteed to never fall below 1%.
Your annuity cash accumulation value grows tax deferred
You do not risk loss of principal with stock market exposure
Qualified LTC expenses are received tax free
If long term care is not needed your annuity cash accumulation value will pass to your beneficiaries.
Long Term Care Annuities Under The Pension Protection Act
Before the Pension Protection Act's (PPA) LTC benefits took effect in 2010 you had to pay taxes on annuity growth inside your annuity before paying for your long term care expenses.  Now, you are able to use your tax-deferred growth of your annuity dollars to pay for your long term care care expenses tax-free with a PPA compliant long term care annuity.
For example, before the Pension Protection Act if you owned an annuity with a $50,000 cost basis that had grown into $100,000 you would have to pay tax on the gain of $50,000 before you used your funds for long term care expenses.  After paying taxes on your gain, you might only have a net $87,500 to use for long term care expenses.
Today, the Pension Protection Act will allow you to complete a tax free exchange of your $100,000 annuity cash value into a PPA compliant LTC annuity such as ForeCare and immediately have $300,000 available to you tax-free for qualified care expenses.  Your taxable gain is washed away.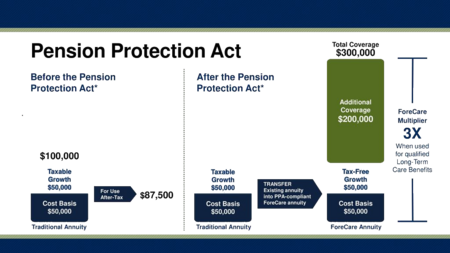 Global Atlantic ForeCare - How Are Your LTC Monthly Benefits Calculated?
Let's take a closer look at how the Global Atlantic ForeCare annuity policy will calculate your long term care insurance monthly benefits.
Let's say you deposit $100,000 and you immediately triple your policy value for long term care needs into $300,000.  
Your $300,000 pool of money will be available to you over a minimum period of 72 months to reimburse you for long term care expenses.  Your monthly reimbursement benefit will be $4166 month for 72 months.  
$300,000 divided by 72 = $4166 month.
If your long term care expenses are less than $4166 month, your annuity value will last longer for you.  
Also, Global Atlantic will credit fixed interest rate annually to your ForeCare cash value.  The current interest rate is 2.75%.  The minimum guaranteed interest rate is 1%.  
This fixed interest crediting can also potentially grow your cash value which can increase your long term care monthly benefit.  Please also understand however that this fixed interest that is credited will be offset by your annuity costs of insurance that are debited annually.  Here is a detailed illustration example for a 70 year old female annuitant.
Illustration of Benefits $100,000 Tripled to $300,000
Global Atlantic ForeCare Annuity- Getting Approved 
The underwriting process with long term care annuity applications is fairly straightforward and easy.  Global Atlantic ForeCare is not any different.  Unlike traditional LTC insurance which will require an extensive review of your medical records, underwriting for long term care annuities will only require a telephone health interview lasting approximately 40 minutes.  
93% of ForeCare applicants are approved, with the majority (87%) of approved ForeCare applicants receiving the "Premier" approval that will triple your premium deposit.  There is a 2 page underwriting questionnaire that will determine if you health qualify and whether you can expect your premium deposit to be doubled (Standard) or Tripled (Premier).
Is Global Atlantic ForeCare long term care annuity your best policy option?
There are a number of excellent hybrid long term care policies available for you to consider today. The Global Atlantic ForeCare policy can be a very good option for you due to its simplified underwriting.  If you have some health issues that might preclude you from qualifying for alternative life insurance based hybrid policies ForeCare may be a good option.  
Additionally, if you have current non-qualified annuities with extensive gains the Global Atlantic ForeCare policy will be an excellent solution for you to complete a 1035 tax free exchange of your existing annuity cash value. 
There are also alternative hybrid long term care annuity policies available for your consideration that may provide you with greater than the ForeCare triple (3X) leverage, such as quadruple (4X) leverage.
If you are healthy however, and/or you are not completing a tax free exchange of annuity cash value, it is likely that a life insurance based hybrid might provide you with a much greater multiplier depending upon your age, marital status and gender.
We will help you to find your best hybrid long term care policy solution.
We work with the leading long term care underwriters such as Lincoln Moneyguard, OneAmerica, Pacific Life, Securian, Nationwide, Mutual of Omaha, National Guardian, Thrivent Financial, Transamerica  and others.
To receive comparative long term care insurance illustrations, please call me direct toll free at (800) 891-5824.  Or complete our online quote request form.
Thank you for reading my blog.